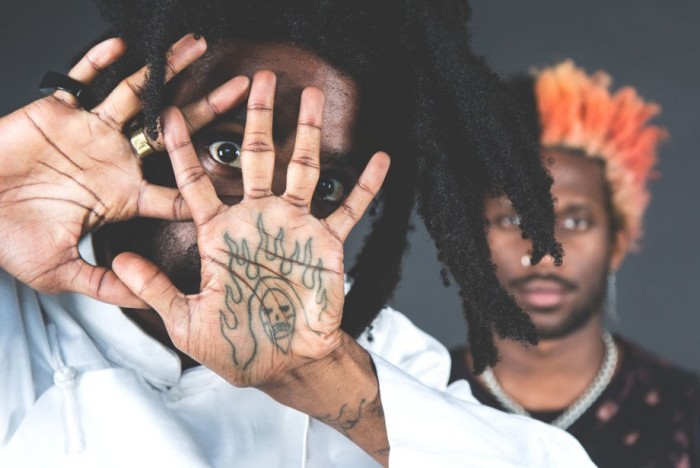 Ho99o9
Ho99o9
News
06 July 2016
The music scene at T-Mobile New Horizons in cooperation with Electronic Beats PL
Festival goers are invited every day during the festival, beginning at 10 PM, to the outdoor Festival Club at Arsenal. The headliners of the music program include Xiu Xiu, Ho99o9, The Bug, Waglewski Fisz Emade, and Emika, as well as the ambassador of the Electronic Beats project, Artur Rojek, in a new and exciting format.
The California-based post-punk experimental trio Xiu Xiu will be performing live music from the cult TV series Twin Peaks for the last time on their current road trip. Their soundtrack to the iconic 1990s TV series was created out of love for, and a profound fascination with, what David Lynch and Angelo Badalamenti created together many years earlier.
And then there is this: Two punks, one on the console, both screaming devils on stage, vocal devils. With their rage escalating, this was one of the best shows in my life. This is how Igor Prusakowski described the two wild Americans who make up Ho99o9. A performance not to be missed. This is Arsenal's best discovery in 2016!
Waglewski Fisz Emade is a must-see trio made up of a father, Wojciech Waglewski, and his sons, Bartek and Piotr. The former is the longtime leader of Voo Voo, a composer, and music producer, while his sons are a duo and both in life and on stage.
Another Polish entrant will be a concert by Much called Recurring WAVE. On stage, we will hear modernized versions of such songs as Pogo II and Rzeka miłości, morze radości, ocean szczęścia (River of love, sea of joy, ocean of happiness).
The Bug is Kevin Martin, a British producer and DJ and a musical icon who regularly works with artists such as Grace Jones, Thom Yorke, Primal Scream, and the Beastie Boys. He will be performing at Arsenal along with Miss Red and Flowdan, one of the most recognizable figures from the British grime music scene.
This year, the music scene at New Horizons will, for the first time, play host to the lifestyle project T-Mobile Electronic Beats. This will be the first of four festival music scenes planned for this year. The selection of musicians whose concerts and DJ sets guests will be able to enjoy at the New Horizons Festival will provide the broadest-possible cross-section of both Polish and international quality techno beats. Performing alongside Natalia Nykiel, who has quickly become one of the most popular singers in Poland, will be one of the country's most loved performers, Emika. The uncompromising RSS B0YS will play alongside one of the legendary punk-rockers of techno, T.Raumschmiere, and the delicate Niemoc will appear in contrast to techno maestro Natalia Beridze | TBA. We will also see Baasch and his extremely moody, emotional voice, as well as the Warsaw duo of Bert and Igor, aka, Last Robots, and their explosive mix of techno and house music. A special surprise for New Horizons is being prepared by Artur Rojek, the ambassador of Electronic Beats PL, who will be appearing in an unexpected role as DJ. Electronic Beats will have dedicated stages at three more top music festivals: Audioriver, the OFF Festival, and the Up To Date Festival.
Among the DJs who will be playing at Arsenal are Hoax & Paid and Filip na bosaka (barefoot Filip) and Romek Rege, who are well known to festival goers from previous editions of New Horizons.