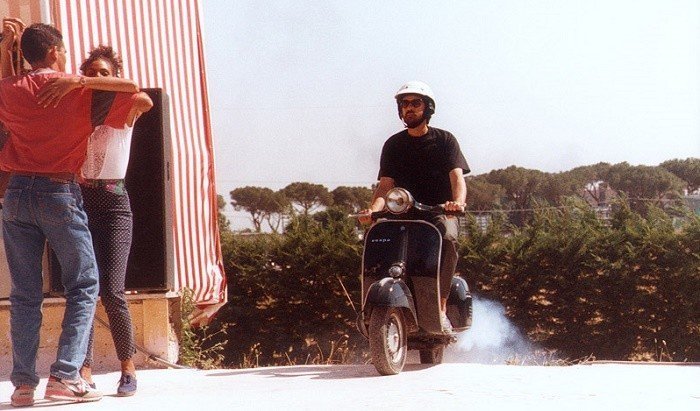 Dear Diary dir. Nanni Moretti
Dear Diary dir. Nanni Moretti
News
16 June 2016
Nanni Moretti, the master of European cinema at 16. T-Mobile New Horizons IFF
The master of European cinema, Nanni Moretti, will visit Wroclaw this year during the T-Mobile New Horizons International Film Festival for the retrospective of his works, and present a masterclass for the audience. Moretti, born in 1953, won Palme d'Or at Cannes Festival and European Film Award among others, and often worked also as an actor. His unique style is a blend of surreal humor, autobiographical elements, political activism and distrust of the establishment. T-Mobile New Horizons IFF will screen full retrospective of his works, short films, documentaries and features, some of them never before shown in Poland.
Audience can watch his feature debut from 1976, I am Self-Sufficient (Io sono un autarchico), depicting the trials of a novice actor trying to escape from the challenges of adult life into the world of experimental theater. In this movie Moretti created (and played) a character of a frustrated intellectual Michele Apicella, his alter ego. The character will return in other movies from the retrospective of "Italian Woody Allen", Ecce Bombo (1978), Sweet Dreams (Sogni d'oro, 1981, awarded Special Jury Prize at Venice FF), Sweet Body of Bianca (Bianca, 1984) and Palombella Rossa (1989), that concludes the series, in which the hero tries to cope with memory loss and insanity of political life in Italy.
In Wroclaw we will also have a chance to see Moretti's best known works, Dear Diary (Caro diario, 1993) autobiographical homage to mundane life, where author tells the story of his fight with cancer (film won the award for Best Director at the 1994 Cannes FF), followed by a politically engaged sequel April (Aprile, 1998); The Son's Room (La stanza del figlio, 2001), which won the Palme d'Or at the 2001 Cannes FF; or The Caiman (Il caimano, 2006), very successful in Italy, focusing on scandalous rule of Silvio Berlusconi. Retrospective will be concluded with recent films, such as My Mother (Mia Madre, 2015), which received Ecumenical Prize in Cannes.
Nanni Moretti and Basque director Viktor Erice, subject of another retrospective at this year's festival, are among 10 filmmakers invited to a special section of 16. T-Mobile New Horizons IFF, Masters of European Cinema, organized as part of European Capital of Culture Wrocław 2016. Remaining guests will present two of their own films and one film inspiration, chosen from the European cinematography. The names of filmmakers will be revealed in future announcements.