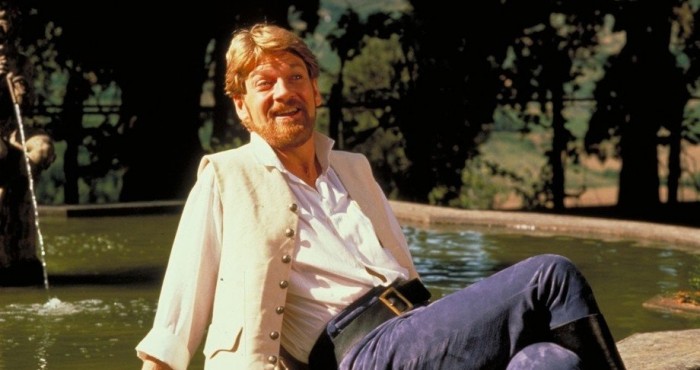 Much Ado About Nothing dir. Kenneth Branagh
Much Ado About Nothing dir. Kenneth Branagh
NH Tit-Bits
18 July 2016
Ian Haydn Smith: Shakespeare on Film
William Shakespeare died 379 years before the Lumière brothers premiered their first film to a stunned Paris audience in December 1895. Yet on IMDB, the playwright's name is associated with over 1000 feature films. Only Walt Disney's credit list comes close. From silent cinema through to the age of the modern blockbuster, Shakespeare's influence is wide and wonderfully varied. Adaptations run the gamut, from straightforward approaches to his text to fabulously imagined variations on a theme or plot. His plays have been updated to reflect on modern times, even looking forward to future worlds and distant planets, as well as taking place in the time Shakespeare envisaged them. And with the commemoration of 400 years since his death and the global Shakespeare Lives festival unfolding over the course of this year, his work, the themes he explored and moral conundrums he engaged with remain relevant, even chillingly prescient.
The traditional cinematic Shakespeare adaptation has come a long way since the short films made at the beginning of the 20th century, which recreated famous scenes. (Excerpts of which can be seen in a special programme showing on the Market Square screen on 24 July.) The most famous versions of his plays, by Laurence Olivier, Orson Welles, Franco Zeffirelli and more recently Kenneth Branagh, have resulted in a canon of prized adaptations that not only draw out the poetic brilliance of Shakespeare's text, they are often a reflection of the times in which they were made. Olivier's Henry V (1944), a propagandist work made to beef up morale in the fight against the Nazis, offers a deeply patriotic portrait of war. By contrast, Branagh's 1989 adaptation of the same play views war as a hellish, inhumane environment in which no side is left unscarred. No less brutal is Roman Polanski's Macbeth (1971), screening at this festival. It may have been produced by Hugh Hefner's Playboy Productions, but there's no Hollywood glamour on display. It's a grim and powerful take on Shakespeare's short, kinetic tragedy. It's impossible not to watch it without thinking about the turbulence of that period - Vietnam was still raging, the Manson gang had killed Polanski's wife Sharon Tate in a massacre, and the world felt as though it was balanced on the precipice of chaos.
Branagh's second Shakespeare adaptation couldn't have been more different from his Henry V or Polanski's Macbeth. Much Ado About Nothing's (1993) inclusion in this festival's Shakespeare Lives retrospective shows just how varied a traditional adaptation can be. It's a resplendent, Tuscany-set comedy, whose darker edges remain visible but are played out with panache by Branagh and his cast, never letting them eclipse the carnivalesque atmosphere of the production.
Theatre of Blood (1973) exists in the 'inspired by' strand of films screening in the festival. It employs scenes and lines from Shakespeare's plays in order to power the narrative, about an actor taking revenge on the critics responsible for his downfall. Vincent Price, who always wanted to be a Shakespearean actor, relishes the central role, delivering some of the most famous lines with aplomb, whilst despatching each critic in the style of a death scene from many of the plays. Wickedly funny, it's a perfect Midnight Madness screening.
Derek Jarman has long been a favourite of New Horizons and his two Shakespearean entries are both a welcome addition to the retrospective and highlight his genius as a visual stylist, poet and laureate of the dispossessed. His The Tempest (1979) infuses his interest in the punk scene of the late 1970s with an Avant Garde sensibility. But it's the moments of tenderness that shine through, nowhere more so than jazz baroness Elizabeth Welch's stunning cabaret-style rendering of 'Stormy Weather'.
If there's a dreaminess to that film, it's a hazy echo compared to the ethereal textures of The Angelic Conversation (1985). Set to sonnets read by Judi Dench, the film is a homoerotic reverie of images and celluloid collages that mesh into one single, phantasmogoric tone poem. Imagine Jean Genet's prison diaries played out in Elizabethan verse. The film may be a long way from what Shakespeare envisaged when he wrote the sonnets, but it shows how cinema, over the course of 120 years, has produced an incredible body of work that illuminates, explores, examines, adapts, reinterprets and celebrates the brilliance of William Shakespeare.
Ian Haydn Smith