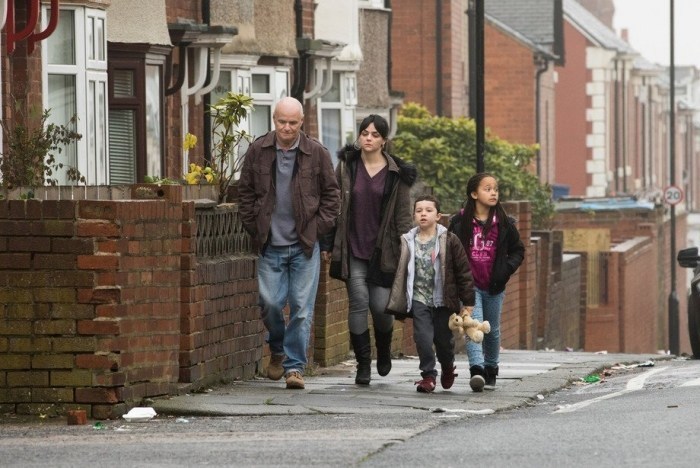 I, Daniel Blake dir. Ken Loach
I, Daniel Blake dir. Ken Loach
Festival Spotlight
22 July 2016
I, Daniel Blake and the Cinema of Ken Loach
Some films change the way we look at the world. Others, in very rare instances, actually change that world. In 1966, the drama Cathy Come Home aired on British television. It told the story of a young couple who, due to an accident the man suffers at work, first face financial problems, then are evicted and have their children taken away by social services. It was watched by a quarter of the British population, debated in parliament and led to the creation of the charity Crisis. Its director was Ken Loach. Jump forward 50 years and we find the same filmmaker fighting for social justice with I, Daniel Blake.
Loach has commented many times over the years that although Cathy Come Home shifted perceptions of homelessness in many people's minds and helped found a charity that has been at the forefront of care for the homeless in the UK, the problem of those living without means continues unabated. But that drama set the trajectory for Loach's career - one that has steadfastly refused to ignore injustice or the illegal activities of governments and individuals who are in a position to know and do better. A number of his films are overtly political. Then again, as Loach said in a moving introduction to a screening of Three Colours Blue, broadcast just after the death of Krzysztof Kieślowski, everything the great Polish filmmaker made was political because, at it's very essence, the act of living is a political one, whether its speaking out against issues or just making ends meet.
Loach has made films about the Irish Troubles, from Britain's 'Shoot to Kill' policy with Hidden Agenda (1990) and the bullying conservatism of the pro-British church in Jimmy's Hall (2014) to the ruthlessness of the Black and Tans - a local off-shoot of the British army - in The Wind That Shakes the Barley (2006), for which the director won his first Palme d'Or. The Troubles were also a part of his controversial 1975 TV series Days of Hope, which looked at British life from a leftist perspective from the First World War to the General Strike of 1926.
He has travelled further abroad, shining a light on human rights abuses and the problems faced by aid workers in Carla's Song (1996), highlighting the rough treatment of Latina workers attempting to unionise in the US in Bread & Roses and examining the splintering of the anti-fascist movement as they fought in the Spanish Civil War in Land and Freedom (1995).
Loach's films possess an urgency to them, made all-the-more compelling by us frequent use of non-professional actors. And he has been supported by screenwriters who have immersed themselves in their worlds. Jim Allen, who wrote Days of Hope and Hidden Agenda also wrote Raining Stones (1993) one of Loach's best films. It details the trouble faced by one couple when they borrow money for their daughter's confirmation dress. Though bleak, the film is often hilariously funny, Allen's script understanding the comic absurdity of life no matter how harsh it is.
Almost all of Loach's scripts since Carla's Song have been penned by Paul Laverty, a former human rights worker whose personal experiences in Nicaragua fed into that film. Like Jim Allen, his best writing balances humour and pathos. In their segment of the portmanteau film Tickets (2005), Laverty brought back the young lads who appeared in Sweet Sixteen (2002). This time they're on a train to Rome to see their favourite Scottish football team play. They encounter a family of Albanians who are going to be thrown off a train because they have no ticket. One of the lads wants to give them theirs, knowing they will find a way to make it to Rome. Another lad fears that the Albanians might be terrorists and if they give them their tickets they could end up in Guantanamo Bay prison. Which would mean they miss the game! It's a deft comic moment in a tense scene that underpins the strengths of Loach and Laverty's collaborative relationship.
I, Daniel Blake, which won Loach his second Palme d'Or and might be the 80-year-old's final feature - echoes the desperation of the characters in Cathy Come Home, Raining Stones and Ladybird, Ladybird - arguably the director's bleakest film. It tells the story of the titular character's attempts, after injuring himself at work, to claim benefits only to be faced with a faceless and labyrinthine welfare system. Since the British government embarked on an austerity programme - the most damaging fallout of the economic collapse caused by the wealthiest in society - those on the breadline have had to suffer the indignity of poverty and food banks. The State, whose role it is to look after them, has shown little concern. Loach and Laverty's drama takes us through Daniel Blake's attempts to claim from the system he had diligently paid into. Like the best of the director's work, from the moving Kes (1969) - one of the finest British films ever made - to the heart-breaking My Name is Joe (1998) and comedy-tinged The Angel's Share (2012), I, Daniel Blake is marked by Loach's compassion, concern and outrage that people around the world should still be suffering so much. But that world is better place for his having made these films.
Ian Haydn Smith