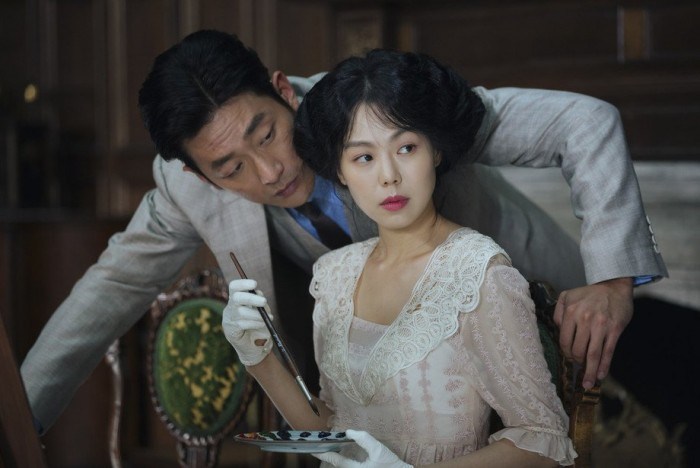 The Handmaiden dir. Park Chan-wook
The Handmaiden dir. Park Chan-wook
NH Tit-Bits
21 July 2016
Ian Haydn Smith's Top 10
There are many rich pickings at this year's festival. This is just the tip of a richly satisfying iceberg. For fairness no competition titles are included.
Sieranevada (Cristi Puiu / Romania, France, Bosnia and Herzegovina, Croatia, Republic of Macedonia 2016)
Cristi Puiu cements his status as a world-class filmmaker with this study of one family as a microcosm of a deeper malaise affecting a whole society.
The Handmaiden (Park Chan-wook / South Korea 2016)
No one quite blends beauty and violence the way Park Chan-wook does. It's a bold adaptation of British writer Sarah Waters' novel 'Fingersmith'.
Cremaster 1-5 (Matthew Barney / USA 1994-2002)
It gained cult status immediately. There is nothing quite like it. It's completely bonkers and visually dazzling. And as it doesn't screen often so this is a must.
Dawn (Laila Pakalnina / Latvia, Estonia, Poland 2015)
A striking drama about life under Soviet rule.
Slack Bay (Bruno Dumont / France, Germany 2016)
Previously austere Belgian auteur Bruno Dumont has found his funny bone and the result is a wonderfully off-beat creation. Like his previous Li'l Quinquin this is comedy unlike any other.
Creative Control (Benjamin Dickinson / USA 2015)
A smart American indie about social media and personal technology gone awry.
Spirit of the Beehive (Víctor Erice / Spain 1973) & Cria cuervos (Carlos Saura / Spain 1976)
Ana Torrent was discovered by Víctor Erice for his extraordinary debut. It's an eloquent, poetic view of the world from the perspective of a child. Three years later, Torrent made her second screen appearance in Saura's richly satisfying film and it's another remarkable performance.
Operation Avalanche (Matt Johnson / USA 2015)
What if no one actually landed on the moon? This mockumentary is the conspiracy theorist's dream movie, but it also shows that something new can be brought to a previously tired sub-genre.
Good Work (Claire Denis / France 1999)
A loose take on Herman Melville's 'Billy Budd' employing excerpts from Benjamin Britten's operatic adaptation, this is sumptuous cinema. Denis' fascination with the human body and movement is brought to the fore in the most unlikely ways. Denis Lavant has never been better. And that final dance scene is extraordinary.
Chamisso's Shadow parts 1-3 (Ulrike Ottinger / Germany, Austria, Switzerland 2016)
I have yet to see it. But an 11-hour ethnographic documentary set in one of the most beautiful but unforgiving landscapes in the world? Come on, what's not to like!