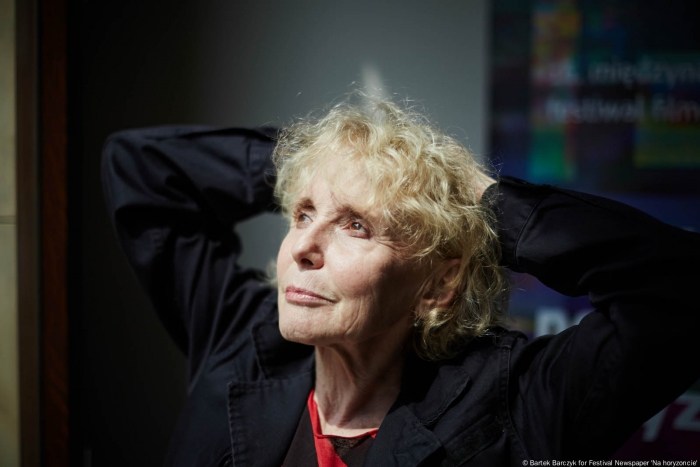 Claire Denis (fot. B. Barczyk, Gazeta festiwalowa "Na horyzoncie")
Claire Denis (fot. B. Barczyk, Gazeta festiwalowa "Na horyzoncie")
Festival Spotlight
28 July 2016
Masters of European Cinema part 2
The Masters of European Cinema programme, supported by the European Capital of Culture, continues its focus on filmmakers whose work has given us landmarks in film over the course of the last 40 years.
Movement suffuses Claire Denis' films. From the nightclub scenes of I Can't Sleep (1994) through to the stylised military manoeuvres of Good Work (2000) and the gorgeous domestic vignettes in 35 Shots of Rum (2008), there is a unique rhythm to the way her characters move, behave or act out their desires. Blended with this is an analysis - never dry or academic, but integral to a character's development and motivations - of the impact of colonialism. It's present in Denis' feature debut Chocolat (1988) and central to one of her finest films, White Material (2009). Her work can be shocking, as evinced by No Fear, No Die (1990), the vampire tale Trouble Every Day (2001) and her most recent feature Bastards (2013). If Friday Night (2002) is a plaintive rhapsodyto love - and Paris by night - The Intruder (2004) is an elusive journey into the fragile nature of memory. There are unifying themes in her work, yet each film stands alone, underpinning Denis' position as one of France - and Europe's - most vibrant, thrilling and enquiring filmmakers.
Victor Erice is one of the least prolific of European filmmakers, but his work ranks amongst the finest of the last 40 years. They are tender portraits of youth, of the artist at work and of the act of observing. His two features are tender, painterly portraits that depict a child's view of the world. Innocence is shattered in both Spirit of the Beehive (1973) and The South (1983), with Erice's camera sensitively recording the brittle bond between parent and child. The Quince Tree Sun (1992) is a documentary portrait of painter Antonio López García that transforms into a meditation on the nature of looking and the passing of time. And it is as exquisite as all of Erice's work.
Andrei Konchalovsky was co-screenwriter with Andrei Tarkovsky of Andrei Rublev (1966). Two years before, he directed his feature debut The First Teacher, about a Leninist ex-soldier faced with centuries of tradition as he attempts to introduce new ideals in the aftermath of the Russian Revolution. He made a series of visually rigorous features in the Soviet Union, including The Story of Asya Klyachina, Who Loved But Did Not Marry (1967), Uncle Vanya (1970) and Siberiade (1979), before embarking on a second chapter in his career in the US. His most acclaimed Hollywood production is the existential thriller Runaway Train (1985), based on a story by Akira Kurosawa. He has since returned to Russia and recent work includes Assia and the Hen with the Golden Eggs (1994) and The Postman's White Nights (2014).
Czech playwright and director Petr Zelenka has divided much of his career between film and theatre. His breakthrough feature Buttoners (1997) was a compendium of six idiosyncratic tales, the best of which is an awkward encounter between two middle-aged couples - the parents of young lovers seen in an earlier episode. It highlights Zelenka's pitch-perfect comic timing, his intelligent deconstruction of social mores and confident direction. No surprise, then, that Zelenka should be a perfect match for Dostoevsky's The Brothers Karamazov (2008), nor that his approach to the satire of Lost in Munich - about the impact of the 1938 Munich Agreement - should be anything but razor-sharp. He continues the tradition of the great Czech New Wave directors, but without any hint of nostalgia, preferring instead to find contemporary resonances in his stories, no matter when they're set.
Of all the directors featured in the Masters of European Cinema strand, Agnieszka Holland's career must be the most varied. After an acclaimed early career in Polish film and television, she directed her first English language film with To Kill a Priest (1988). But it was her Oscar-nominated Europa Europa (1990) that proved to be her international breakthrough. Since then she has directed the exquisite period dramas The Secret Garden (1993), Total Eclipse (1995) and Washington Square (1997), alongside contemporary TV dramas such as Cold Case, The Killing, House of Cards, Treme and The Wire. In 2011, she returned to film with the powerful In Darkness, about a group of Polish Jews evading the Nazis throughout the Second World War. Her finest work is empathetic and profoundly human, justifying her position as one of the Masters of European Cinema.
Ian Haydn Smith