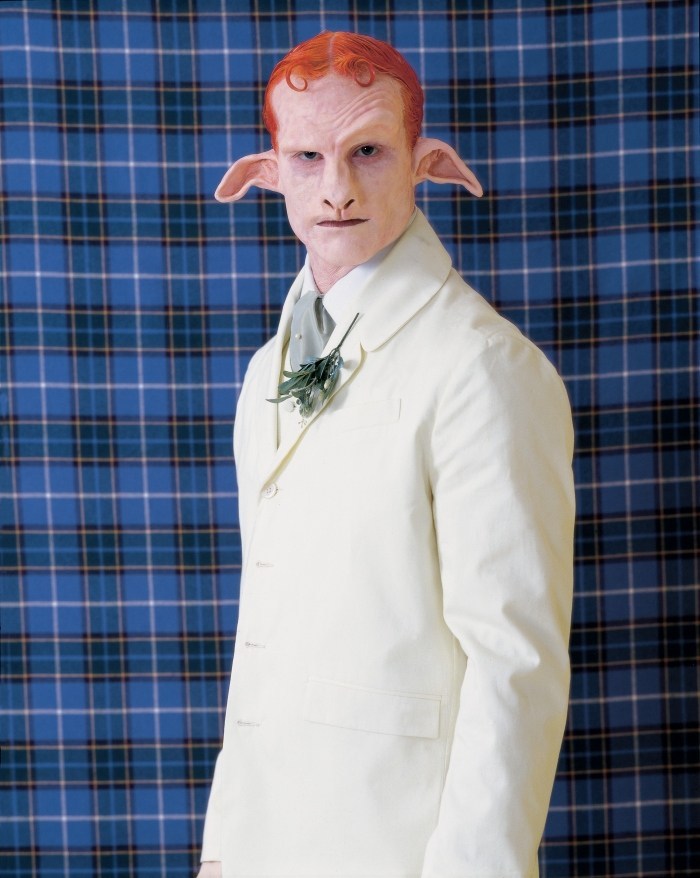 Cremaster 4 (1994)
Cremaster 4 (1994)
Festival Spotlight
30 July 2016
A Stream of Creativity – Matthew Barney
River of Fundament (2015), screening at New Horizons with the support of the European Capital of Culture, is the crowning achievement of Matthew Barney's career to date. Not that the scope and scale of his previous work hasn't already eclipsed that of most filmmakers. However, the new project does underpin how successfully Barney has merged the worlds of art and cinema into one unique, unified creation.
The trajectory between artist and narrative filmmaker is not always an easy one. Since Salvador Dalí collaborated with Luis Buñuel on Un Chien Andalou (1928), artists have frequently attempted the transition from studio space and gallery to cinema auditorium. There's Jean Cocteau, whose films bear the hallmark of his work in other disciplines. His mastery over cinema remains second-to-none.
British artist Sam Taylor-Johnson embraced mainstream cinema wholeheartedly, first with a biopic of the early life of John Lennon, then 50 Shades of Grey (2015). The American sculptor Robert Longo was less successful in his attempt to translate his artistic vision with commercial demands. His take on cyberpunk, Johnny Mnemonic (1995), was a sprawling mess that managed to make even Takeshi Kitano appear less than charismatic. Steve McQueen and Julian Schnabel's journey, by contrast, has been more fruitful. McQueen in particular employs duration in his films in a way that is anathema to contemporary mainstream cinema, such as the hanging scene in 12 Years a Slave (2013) or the conversation between Bobby Sands and a priest in Hunger (2008). And Gillian Wearing's Self Made (2010) perhaps comes closest in being a film - albeit one with limited appeal - that embellishes on the preoccupations and style of her gallery work.
What is so remarkable about Matthew Barney's work is that there has been no crossover, no move from one discipline to another, or a need to modulate theme or style in any way. It is radical and uncompromising. Yet his legion of fans grows with each screening, which are often events in themselves. Moreover, his work succeeds in carrying out the high-wire act of being both a critique and celebration of the most extreme excesses of spectacular blockbuster cinema.
To fine some linearity to the history of Barney's work is difficult as much of it exits as a work-in-process - or transition - across a number of years. (There is also a sense that no work is ever complete, that Barney may eventually return to it in the future.) Drawing Restraint 9 (2005) is a case in point. Chronologically, the film arrives after the Cremaster Cycle. But its genesis lies in a series of works that date back to one of his earliest shorts -Drawing Restraint 7 (1993) - and studio experiments that explore the body's muscular power as a metaphor for breakdown and renewal, culminating in Drawing Restrain 1-6 (1987-89). Drawing Restraint 9, co-starring alongside Barney and with a soundtrack by Bjork, can be seen as the permanent record of this conceptual journey, but it is by no means the summation. Barney's experiments have continued, working up to - and probably beyond - Drawing Restraint 19, which employs a skateboard as a drawing tool.
The Cremaster Cycle is Barney's most renowned film/artwork. Produced out of order (4 [1995], 1 [1996], 5 [1997], 2 [1999] and 3 [2002]) - and in conjunction with regular collaborator, the composer and soundtrack arranger Jonathan Bepler, it is an extraordinary epic that defies any easy categorisation. Ostensibly a record of sexual development, critics have noted that it's possible to draw multiple meanings from the works but audiences could also watch it for the sheer aesthetic pleasure of the spectacle. From the audacious costume and production design to the audacious use of locations - most notably the spiral ramp of New York's Solomon R. Guggenheim Museum - the Cremaster Cycle is a sensuous feast.
And strange. Barney's output is both wonderfully and disturbingly odd. Take De Lama Lamina (2007), Barney's collaboration with musician Arturo Lindsay. The film unfolds in, on and around a float, one of many that make up the Carnaval da Bahia celebration in Salvador. As Lindsay's band play in plain view, beneath the lorry transporting them nature exists in primeval form. The opening sequences are abstract and because they're shot in low light barely discernable. They recall David Lynch's nightmare visions of the worlds that exist beneath the veneer of everyday life. Added to the mix are the rhythms of the samba band surrounding the float, adding to the primal tone of the piece.
One of the key inspirations behind River of Fundament, Barney's latest and arguably most rewarding work, is Norman Mailer's sprawling novel detailing the lives - and afterlives - of the Egyptian pharaohs. It's one of his most challenging works of fiction, but in the way it explores both sexuality and the corporeal, it's unsurprising it appealed to Barney. The artist's 2007 live performance piece 'Guardian of the Veil' was an early example of Barney's drawing from Mailer's text. But the new work is far more expansive.
The 1967 Chrysler Imperial that appears in Cremaster 3 takes on symbolic human form as a central protagonist in River of Fundament. Like the German artist Joseph Beuys, for whom felt and fat were key components of his work - and essential to his survival in the Second World War - Barney's installations and films constantly feature similar objects in fetishistic form, their original meaning mostly concealed by the signifiers Barney gives them. The film's centrepiece is a recreation of the room Mailer's wake - the author died in 2007 - took place in. With the exception of Bjork, it's the first time Barney has employed name actors in his films. The cast includes Paul Giamatti, Maggie Gyllenhaal, Elaine Stricth and Ellen Burstyn. The effect is odd, yet effective. It also pinpoints Barney's position in contemporary culture - that he can access Hollywood actors to appear in a work far beyond the periphery of the mainstream.
Clocking in at just shy of six hours - for fans of festival favourite Lav Diaz this is business as usual - River of Fundament might seem like a tough night. Far from it. Barney might be a conceptualist, theorist and artist but he is, like his near-namesake P.T. Barnum, also an entertainer. His latest film is riveting. It is cinema on the grandest scale, an equal to any summertime blockbuster in terms of visual invention. But with more ideas and ingenuity than any popcorn movie could ever muster.
Ian Haydn Smith