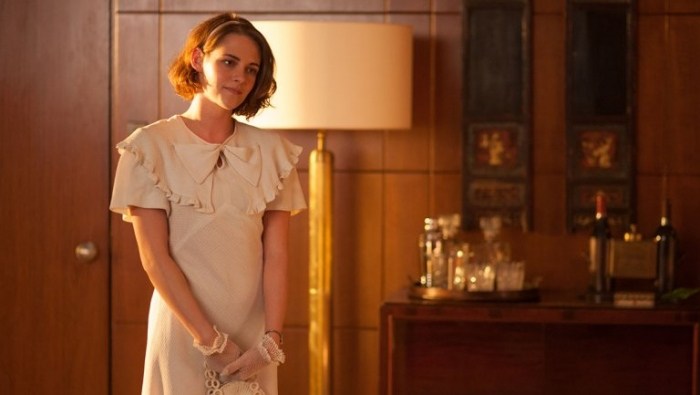 Cafe Society (2016)
Cafe Society (2016)
Festival Spotlight
31 July 2016
Nostalgia Trip – Woody Allen's Cafe Society
By its very name this festival looks to new horizons in filmmaking - highlighting innovation, new voices and ways of using film to explore character or issues. But with its closing film the festival looks back to an earlier era in cinema.
Cafe Society is Woody Allen's 47th feature. It takes place in 1930s Hollywood and stars Jesse Eisenburg as Bobby Dorfman, a New York Jew sent by his father (Ken Stott) to the West Coast to work for his uncle (Steve Carell). No sooner has he arrived than he falls in love with Kristen Stewart's Vonnie, his uncle's secretary and erstwhile lover. Thus the scene is set for a battle between two men over one woman, against the glamorous backdrop of Hollywood life.
It's not the first time Allen has used film as his focus, although his attempt to dramatise the movie business has produced mixed results. Kenneth Branagh made for a poor Allen alter-ego in Celebrity (1998), but Leonardo DiCaprio playfully blurred the lines between fact and fiction when he portrayed the role of a hell-raising young movie star. Allen himself did little in the leading role of Hollywood Ending (2002), one of his weakest films. Playing a director contracted to helm a big-budget studio movie and losing his sight due to fear, the film's key joke echoed just one moment from the superior Deconstructing Harry (1997), when Robin Williams plays an actor who has literally lost their focus in front of the camera. Allen also attempted a mostly unsuccessful take on German Expressionism with Shadows and Fog - featuring a woefully miscast Madonna - in 1991.
The filmmaker's best take on the movie world is apparently the favourite of all his films. The Purple Rose of Cairo (1985) is set in the same time period as Cafe Society, the 1930s, and tells the tale of a young wife struggling through the Depression and whose only escape is the cinema. When her hero, a matinee idol played by Jeff Daniels, walks out of the screen and into her life, she has the potential to be happy, but this being a Woody Allen film it's clear things aren't likely to end that way. The film works because it perfectly balances the playful and the serious. Allen's jokes are funny, but they are less stand-out gags than part of the characters' development. (The ongoing complaints of the characters on screen, stuck in a scene because they cannot move on without their leading man, is inspired.) And the film's disarming air belies the power of its moving dénouement.
Of Allen's recent films, Midnight in Paris (2011), which is set in present day and 1920s Paris, plays a similar trick. Although it is one of Allen's sprightliest confections - featuring a wonderful joke at the expense of Luis Buñuel and his yet-to-be-made The Exterminating Angel (1962) - it never achieves the depth of Purple Rose. The one film that did and is also set in the mid-1930s is Sweet and Lowdown (1999). Arguably Allen's last truly great film (to date), its tale of the world's second greatest jazz guitarist, played by Sean Penn, is a beautifully written paean to the director's love of jazz music, a brilliant portrait of a gifted but dim man and a plaintive reflection on America's past.
Cafe Society is shot by Vittorio Storaro, only his second collaboration with Allen after shooting Allen's segment of New York Stories (1989). Through his lens, Hollywood is a rich, lustrous world. It's a perfect collaboration between director and cinematographer, but not the only ideal partnership on this film. Of all the actors to play Allen's on-screen alter-ego over the last 20 years, Jesse Eisenberg is the most suited. A nervous ball of energy in any of his films, his pent-up neuroticism is perfect for Allen's writing, while Kristen Stuart once again proves that the Twilight series was less a career-defining moment than a stepping stone to the compelling actor she has become.
If Allen's film lacks the zany energy of his other period-set films like Radio Days (1987), the wonderful Bullets Over Broadway (1994) or the inspired Zelig (1983), it does find the writer-director in a relaxed mode. Like the Coens' equally enjoyable Hail, Caesar! (2015), Cafe Society a pleasurable trip back to the Golden Age of Hollywood and the perfect end to a superb festival.
Ian Haydn Smith