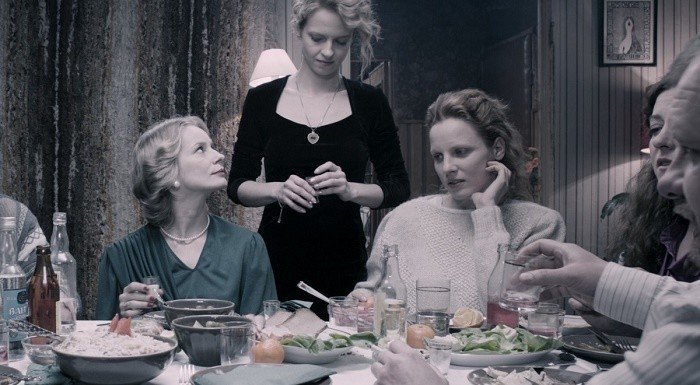 United States of Love dir. Tomasz Wasilewski
United States of Love dir. Tomasz Wasilewski
News
20 May 2016
New Polish Films at the 16th T-Mobile New Horizons International Film Festival
As is the case every year, audiences at the 16th T-Mobile New Horizons Festival (July 21-31) will have a chance to see a selection of new Polish productions, while the filmmakers themselves will also be meeting with audiences in Wroclaw. The Panorama section will be showing Tomasz Kwasniewski's acclaimed film United States of Love, which took home a Silver Bear for best screenplay at the Berlinale. The screening in Wroclaw will be the film's Polish premiere. In his third film (his previous work, Floating Skyscrapers, captured an Audience Award at the 13th T-Mobile New Horizons International Film Festival), the young director paints a portrait of four women of different ages who live in a provincial apartment block in the early 1990s. Then the Berlin Wall came down, ushering in a so-called era of transformation. While it seemed that everything was then possible, their unadorned concrete homes remained stuck in the previous era. Marlena, Isa, Renata, and Agate try to start new lives, to realize their dormant dreams, and to unleash hidden passions and yearnings.
The Festival will also include a special screening of Knives Out, the latest film by Preys Worcester, a regular guest at New Horizons. Hidden behind the title, which was taken from a song by Radiohead, lies the story of group of school friends who meet at a summer cottage belonging to one of them on the anniversary of their graduation from high school. Though only in their early 20s, some of them have already been successful in international corporations, and they like to repeat the mantra that they are from the best generation of Poles. As the evening wears on in the atmosphere of an alcohol-soaked picnic, they begin to reveal their hidden demons, phobias, and layers of frustration. As the director says, he wanted to examine the young, educated class who had enjoyed some success in life, who are fascinated by nationalism and authoritarian order, whose choices are shaping contemporary Poland. Students from the Theater Academy helped with the screenplay by contributing some of their own experiences.
Several Polish premieres will take part in the International Competition at the New Horizons Festival. One of these will be Micha Marczak's (maker of the acclaimed documentary Fuck for Forest from two years ago) All these Sleepless Nights, which captured the Best Director Award at Sundance. Pulsating with music and urban rhythms, the film shows a generation of people born after the historical changes that occurred in 1989, creating a compelling portrait of partygoers searching for their own perspective on life. Already hailed as the most intimate and authentic story about young people since Andrzej Wanda's Innocent Sorcerers, the film was shot over two years, involving a group of the director's friends, in real homes, clubs, parks, and on the streets, thus blurring the lines between a feature film and a documentary. It is also a tribute to Warsaw, one of the protagonists of a film filled with youthful energy.
The other Polish candidate in the competition will be Ederly, the latest production directed by Peter Damara, an award-winning master of animation whose 2009 film Forest crossed over into the world of live-action features. Shot in black-and-white, this auteur film, with features of a surreal comedy, elements of horror and a philosophical fairy tale, tells the story of the town of Ederly, which exists somewhere on the edge between a dream and reality. When the main character, Sow, a restorer of monuments played by Marcius Bonuses, reaches the town, the townspeople take him to be a local man who went missing some 20 years earlier. Attributing a series of identities to him, he is called a son, a brother, a boyfriend, and a lover. The screenplay is based on a novel by Damara published in installments in Kino monthly magazine.