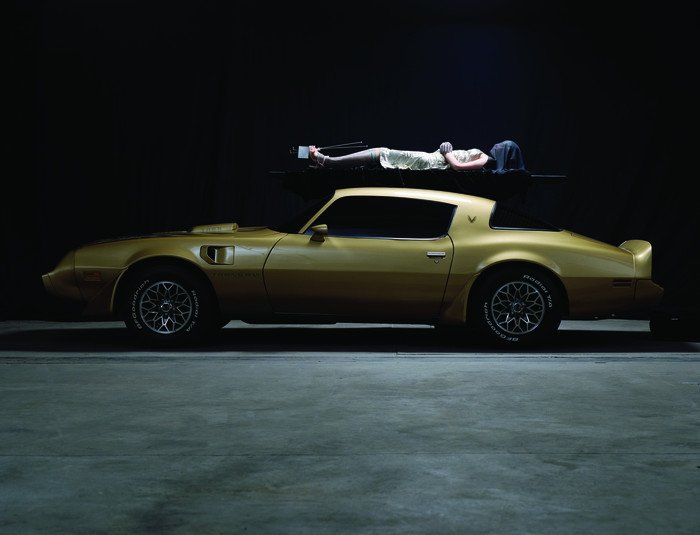 River of Fundament dir. Matthew Barney
River of Fundament dir. Matthew Barney
News
02 June 2016
Tickets Now on Sale for the Premiere of Matthew Barney's "River of Fundament" at the 16th T-Mobile New Horizons IFF
One of the highlights of the 16th edition of T-Mobile New Horizons will be the premiere screenings of the film opera River of Fundament. This is the latest project-made over a number of years-by composer Jonathan Bepler and Matthew Barney (the maker of the acclaimed CremasterCycle), a man who has been called a modern-day myth creator and the "American Wagner." This maker of daring performance art, installations, and videos was named by The Guardian in 2014 as one of the most influential people in the world of art. Barney establishes specific conditions for each showing of River of Fundament, and he also chooses the location for each screening. In July, New Horizons audiences will have a unique opportunity to see this work, which to date has only been shown a small number of times anywhere in the world. There will be two screenings on July 29 and 30 at 17:00 at the National Forum of Music in Wrocław.
River of Fundament is a monumental (six hours, three acts, two entr'actes) opera told using the language of film. It was inspired by Norman Mailer's novel Ancient Evenings, which describes a human being's journey from death to rebirth on the basis of Egyptian mythology. River of Fundament is not, however, a faithful adaptation of the text, but rather a composition of phantasmagoric images and surreal narratives, where the fate of the novel's Egyptian protagonist is interwoven with the fictional biography of the author. River of Fundament is about a journey of souls, continuous transformation, and games of life and death. Although the story takes place in the contemporary United States, it has plenty of surreal elements that might have been culled from dark hallucinations or a shimmering mirage.
Barney's stories resist attempts at descriptive pigeon-holeing. He creates visually sublime worlds in which confusion and clarity, waking and dreaming, grace and monstrosity all merge together. River of Fudament is a work that cannot be understood according to traditional categories. The viewer is overwhelmed by the work's formalistic pageantry. While it is repulsive and overly eccentric, it remains seductive and demanding of admiration.
The Festival will also be screening all of Barney's other films, including the five-part Cremaster Cycle (1994-2002), which brought the director international acclaim; Drawing Restraint 9 (2005), a peculiar love story rooted in Japanese culture about people who are turned into whales-in addition to Barney, the film features a performance by Björk, who also authored the soundtrack for the film; and De Lama Lamina (2004), a recording of a performance art piece that Barney conducted in the Brazilian city of Salvador during the Carnaval da Bahia parade.
The screenings of River of Fundament will be held as part of the European Capital of Culture program.
Tickets went on sale on June 1. They can be purchased at National Forum of Music ticket offices, Plac Wolności 1, and online at www.nfm.wroclaw.pl
Ticket prices: PLN 40 or PLN 30 for holders of a Festival pass
This work contains scenes of a strong sexual nature and is not suitable for audiences under 18 years of age.