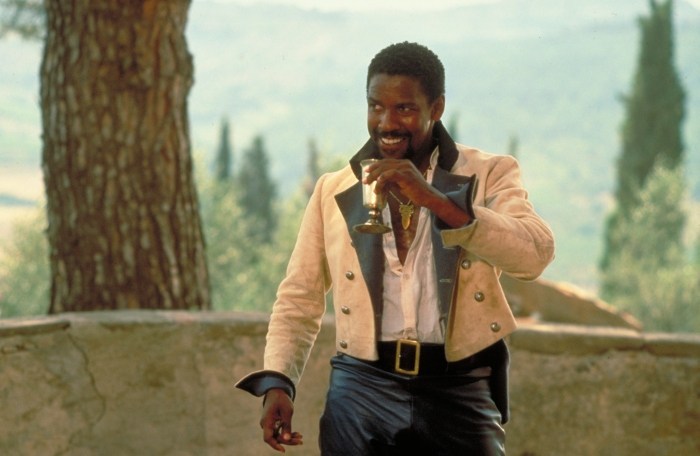 Much Ado About Nothing (1993)
Much Ado About Nothing (1993)
​Shakespeare Lives in Film
23 July 2016
Shakespeare in Italy
The Italian landscape has provided a backdrop to 13 of Shakespeare's plays: 'The Two Gentlemen of Verona', 'The Taming of the Shrew', 'Titus Andronicus', 'Romeo and Juliet', 'The Merchant of Venice', 'Much Ado About Nothing', 'Julius Caesar', 'Othello', 'All's Well that Ends Well', 'Antony and Cleopatra', 'Coriolanus', 'The Winter's Tale' and 'Cymbeline'. They run the course of the country's history, span its length and breadth - from coastline to cities and rural regions - and feature some of the playwright's most memorable characters. There are tragedies, comedies and histories and they encompass the spectrum of human emotions.
Of all these plays, 'Much Ado About Nothing' is perhaps the breeziest. And yet it manages to plumb the depths of our darker side, exploring the destructive nature of jealousy and examining the boundaries of trust, between men and the two sexes.
There have been a number of film adaptations. The most recent, a small-scale black and white drama from 2011, was shot by Joss Whedon in and around his LA home, between principle photography and post-production on his Avengers Assemble blockbuster. As fun as that film is, it still pales against Kenneth Branagh's 1993 Tuscany-set version.
Branagh plays Benedict, with Emma Thompson as Beatrice. They're a perfect match on the screen. Their relationship is initially played for laughs, then takes on a serious tone, before returning to comedy and romance at the end. Their trials and tribulations reflect the course of the plot, which finds Keanu Reeve's scheming Don John, the brother of Denzel Washington's Prince of Aragon, planning to destroy the wedding between Claudio (Robert Sean Leonard) and Hero (Kate Beckinsale) by impugning the young bride's virtue.
Branagh's second Shakespeare adaptation is a startling change in tone from Henry V. Along with his 1997 version of Hamlet (1997), it is one of his best films. The more overt comedy, particularly Michael Keaton's Dogberry - coming across like a renaissance Beetlejuice - works less well, but the jovial atmosphere overcomes any minor failings.
If the film is one of the more traditional Shakespearian adaptations, all the better to enjoy the richness of the play's dialogue. The main players are excellent (only Keanu Reeves strikes an odd note - he is woefully miscast and out of his depth), but the real pleasure lies in watching Branagh and Thompson duke it out with words. An extraordinary Shakespearean actor, Branagh's ability to shift between comedy and drama is compelling to watch, while few people can do waspishness quite as deftly as Thompson. If ever there was the perfect summer Shakespeare film, this is it.
Ian Haydn Smith